There are plenty of options to style hijab with a wedding dress. A floral printed hijab would go well with a less embroidered dress. And if one is wearing a full embroidered dress then a light color hijab would be appropriate for it. There are several designs in printed hijabs. You can easily get the fabric in markets. All you need to do is a little search in the markets.
Dark colors are highly recommended for a wedding. There are a lot of embroidered hijab designs available these days. So don't just follow the simple hijab fashion. You can always try and experiment new designs which are very trendy and famous among the ladies. Also you can buy clips and decorative brooches to enhance the look. Brooches and clips can add sophistication to your hijab.
These days even brides prefer wearing hijab. A full embroidered hijab adds more beauty to the dress and over all look. Fabrics can also come in different textures and designs for example Cotton hijab, Chiffon hijab, Silk hijab and many others. Bride can select the best combination material and color for hijab that can compliment her overall look. Hopefully you will get enough ideas from the pictures.
Beige hijab with same colored net is a perfect piece for a bride. Embellished with sequins and heavy jewelry worn on the head is very likeable. If you are a bride who likes some heavy dresses and as the neck is also covered so the brides can have heavy beaded work done around the collar line which makes her stand out among the crowd.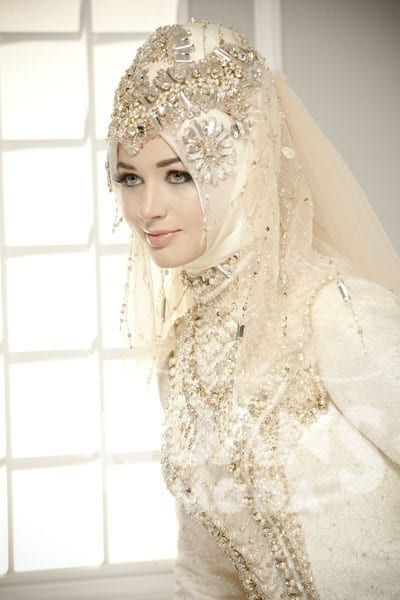 Blue is an extraordinary color and to choose it for your wedding is although risky but will keep you the talk of the family for years to come. This beautiful bride chose a blue embellished and beaded and sequined peplum styled gown with draping. The hijab is with a powder pink net and heavy jewels to complete the look.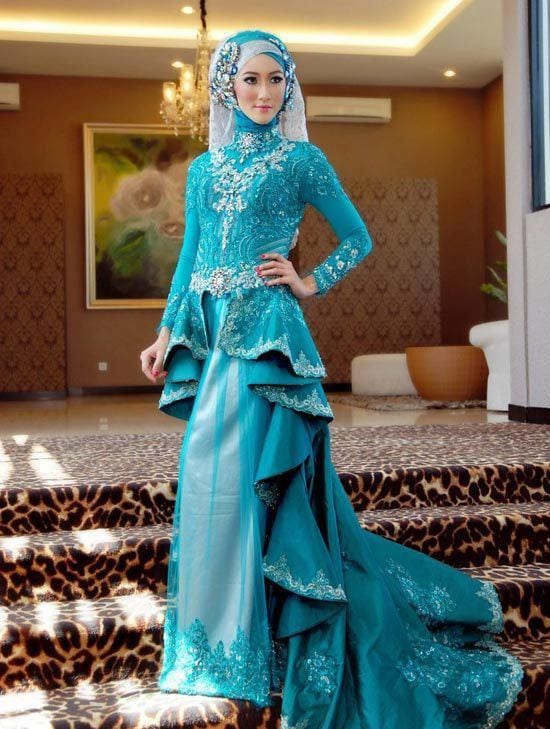 Islamic bridal wear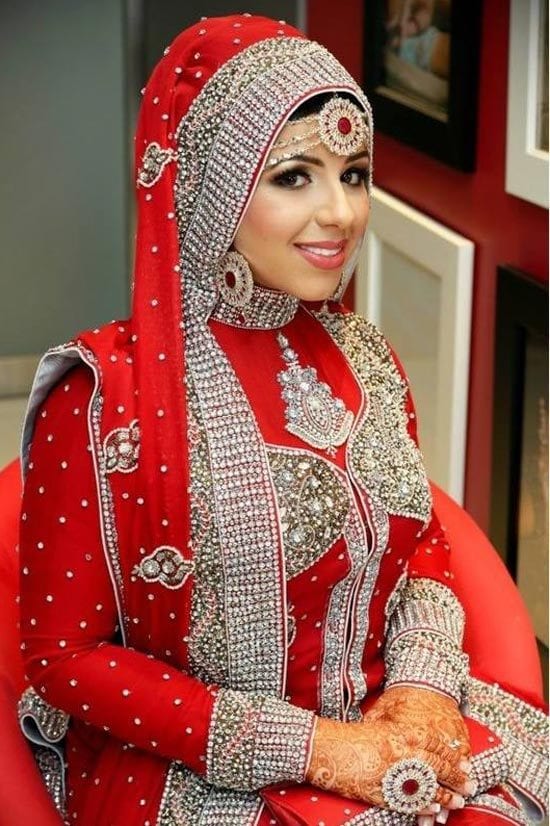 Within simplicity lies the elegance for every woman. This bride went for a little drama and choose a simple pearls encrusted beige gown and a matching hijab in beige net with a pearl and gold head band. Do remember that if you are going for a simpler gown have your eyes done heavily.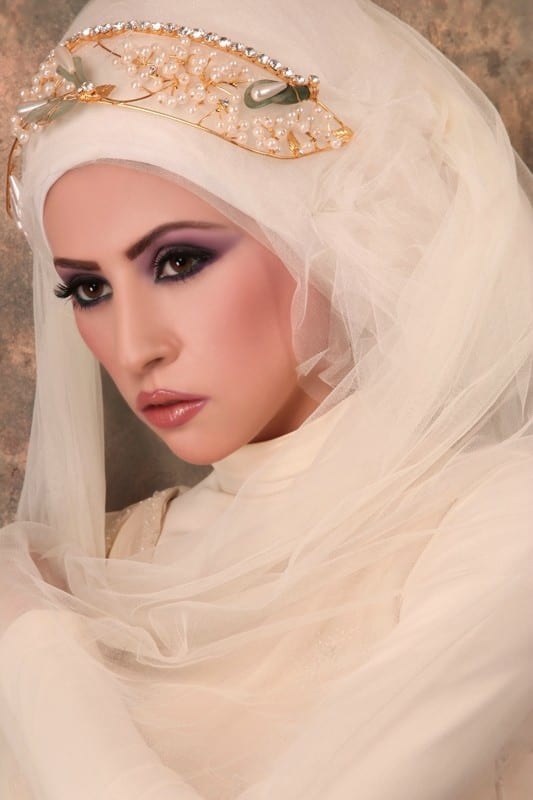 Girlish look can be achieved if you go for a powder pink gown and a same colored hijab. Have crochet flowers embroided on the hijab. For a little more glamor wear a silver band. Keep the makeup on the lighter side. Again remember that with the neck covered you can have heavy work done around it as is the custom.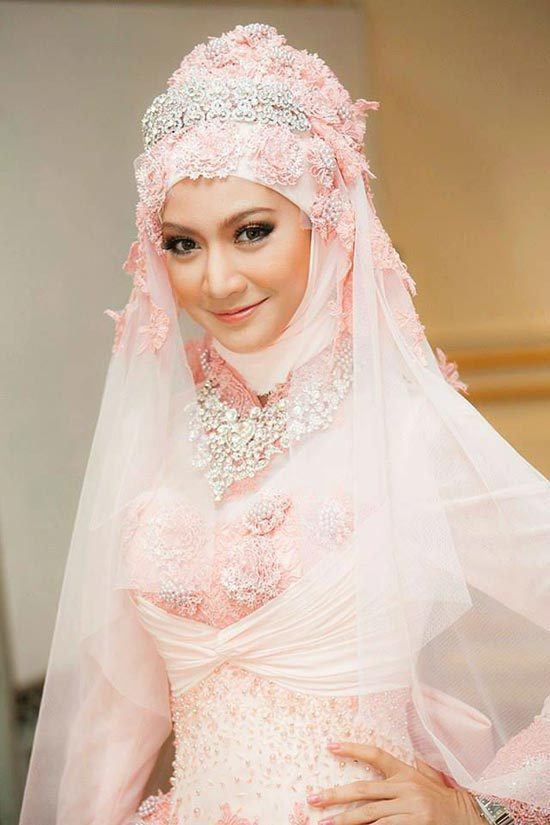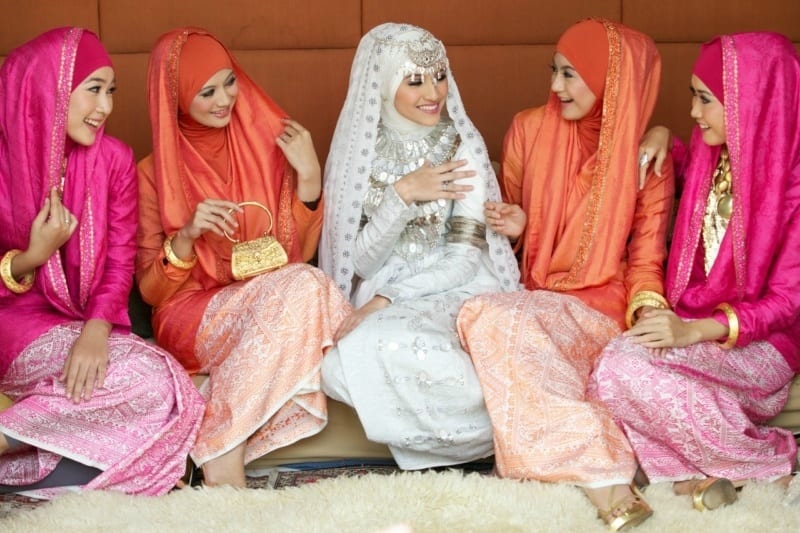 Purity is oozing from this all white kaftan with gold work patches all over. A very simple choice but no doubt and elegant one. This option is also covered in lesser budget as the hijab is also simple. You can have a heavy worked hijab if you want but then the point of simplicity will be lost. Just wear good high heels with the attire.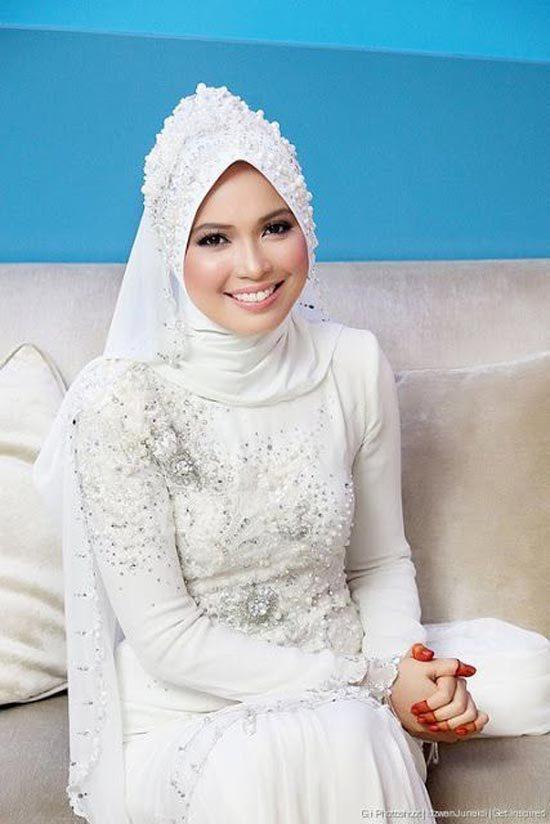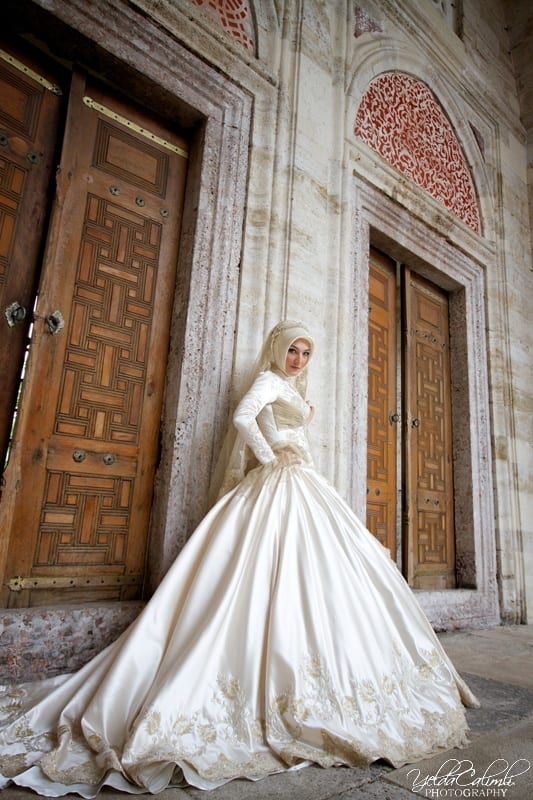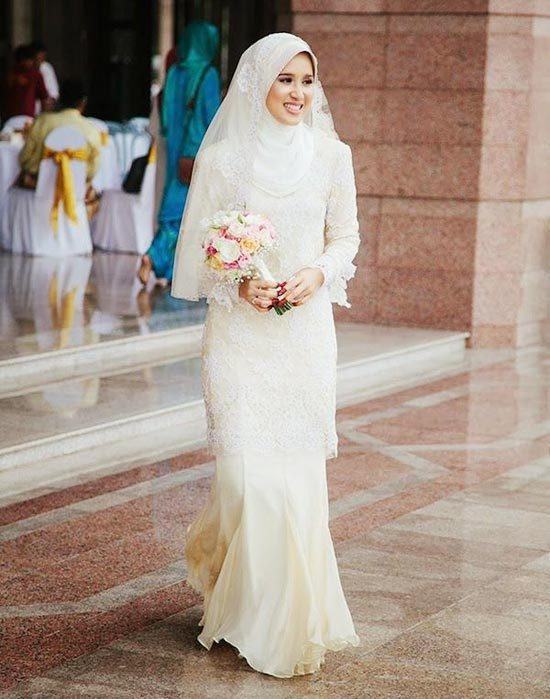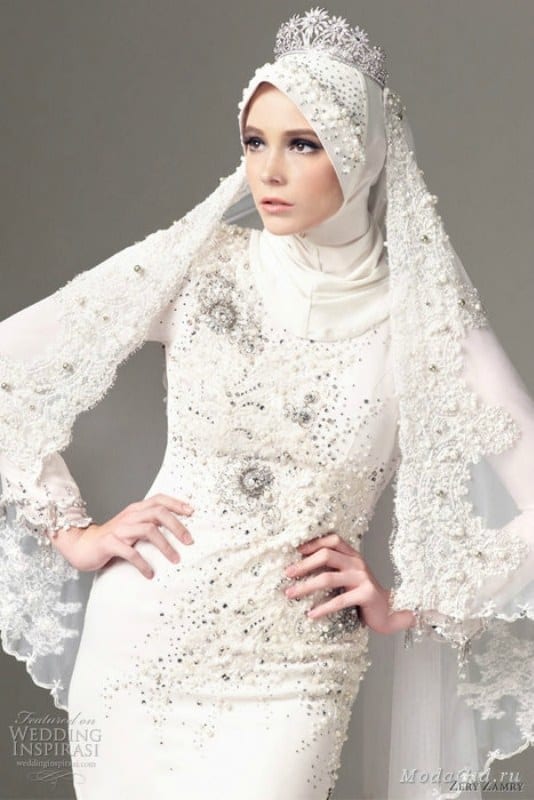 Again a powder pink bridal gown but with a totally different look. Just a little sequin work on the edges of the hijab and little flowers throughout the slim fit gown of the bride. Asian and African brides also like to put hina on their hands as it is the tradition.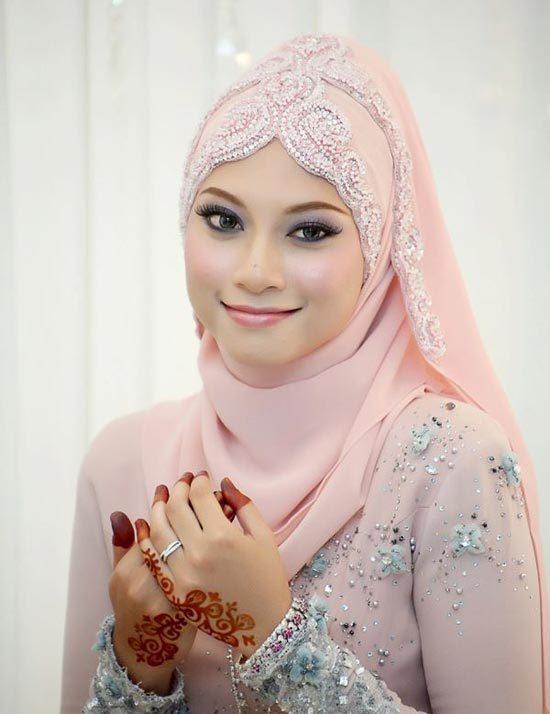 Blue embellished gown with a contrasting hijab with a bee hive look. Cat eye make up will look really nice with this sort.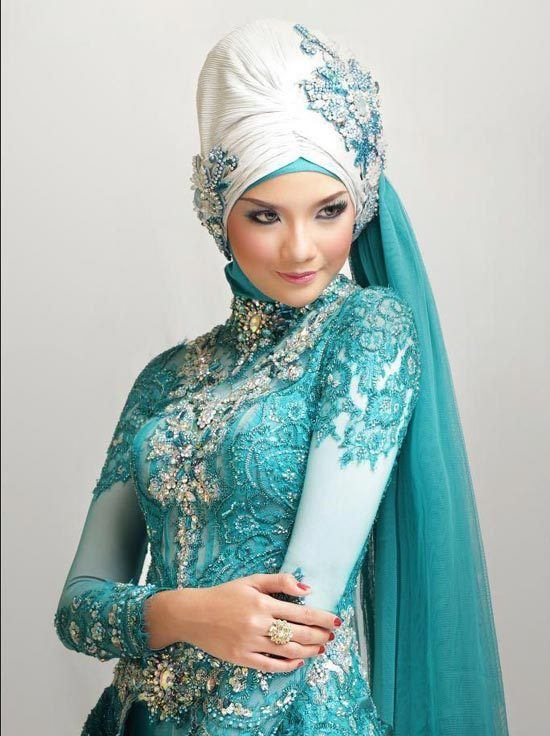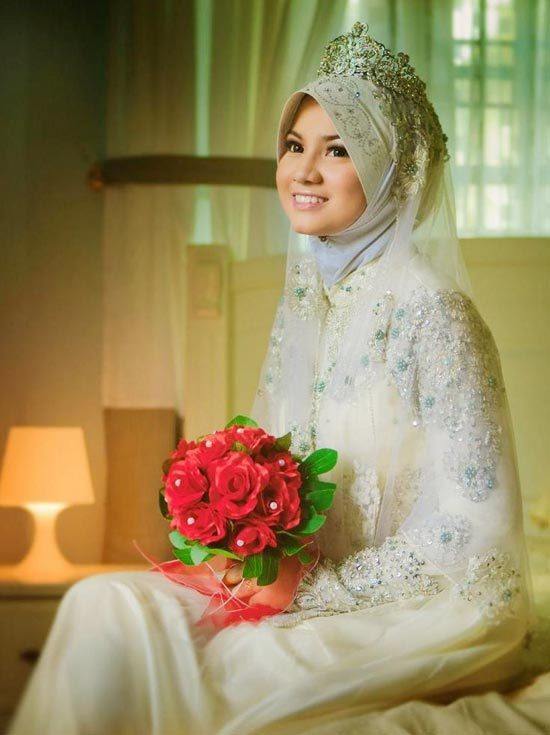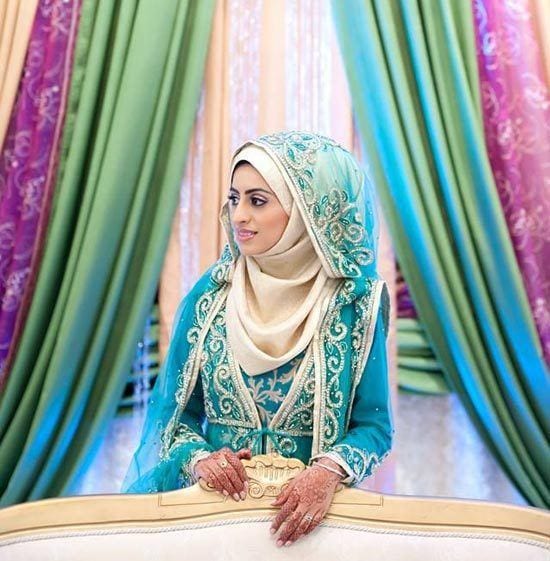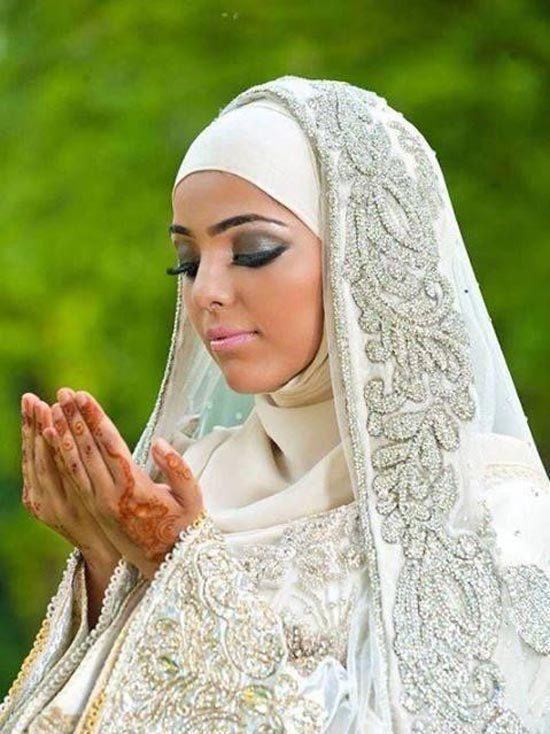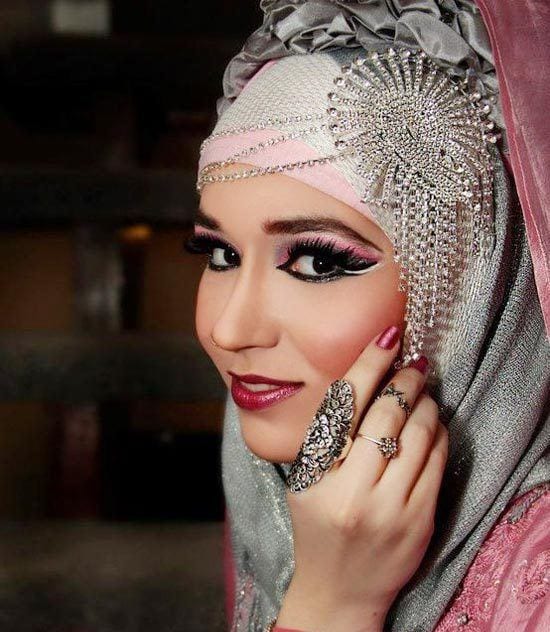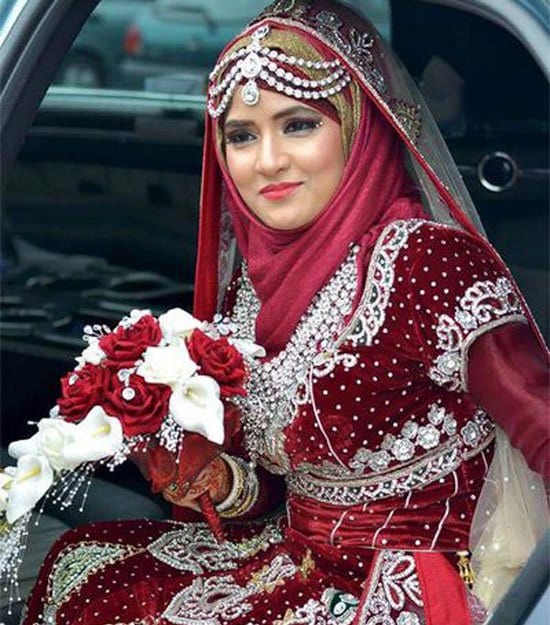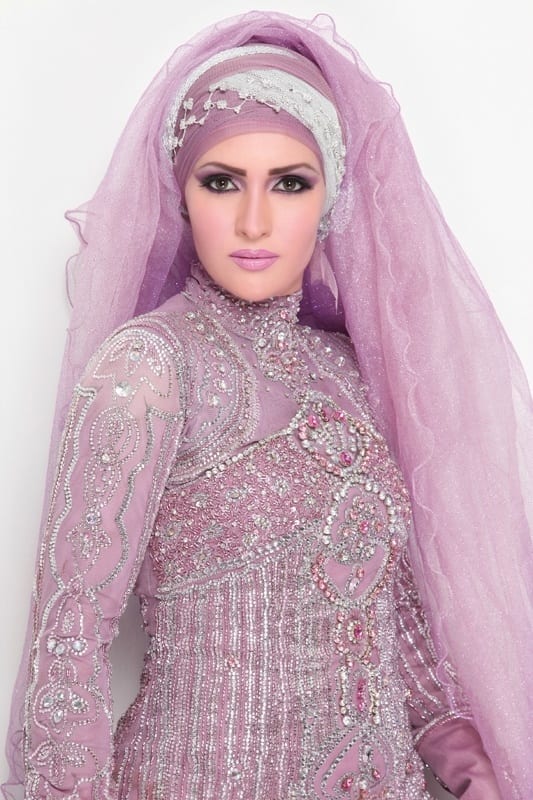 via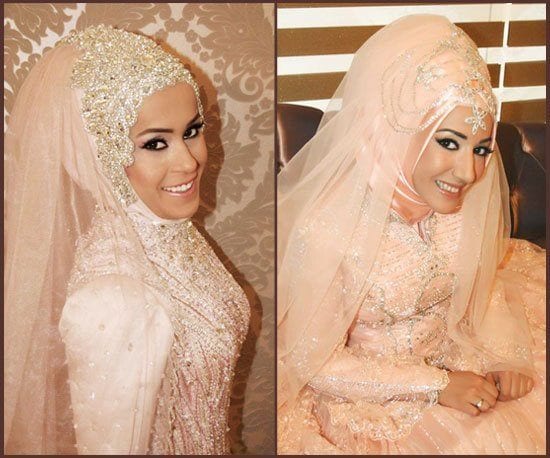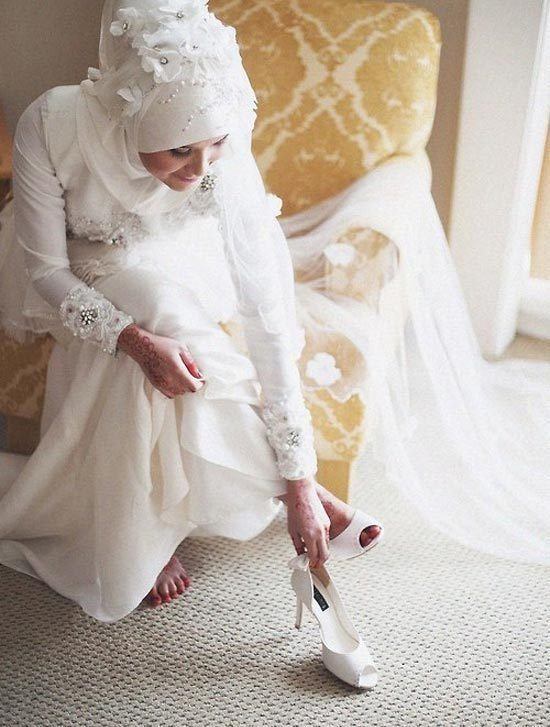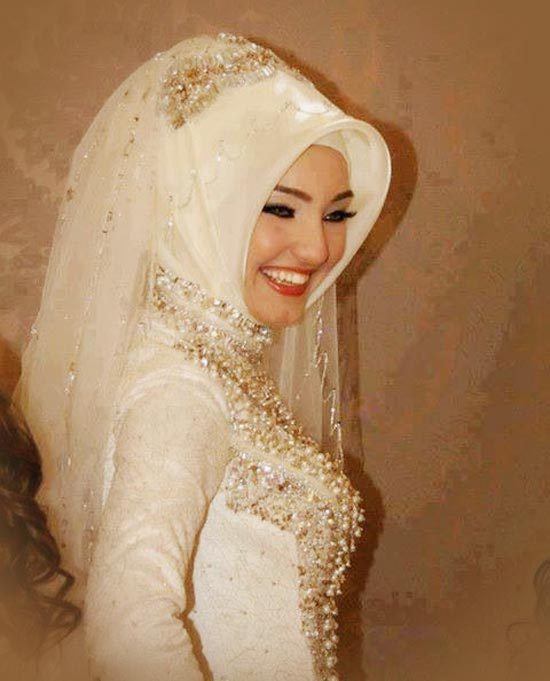 Brown shade in bridal gown is a very different color but look at the dress with silver work and slim fit gown it is looking absolutely gorgeous on the bride with pleats on the side.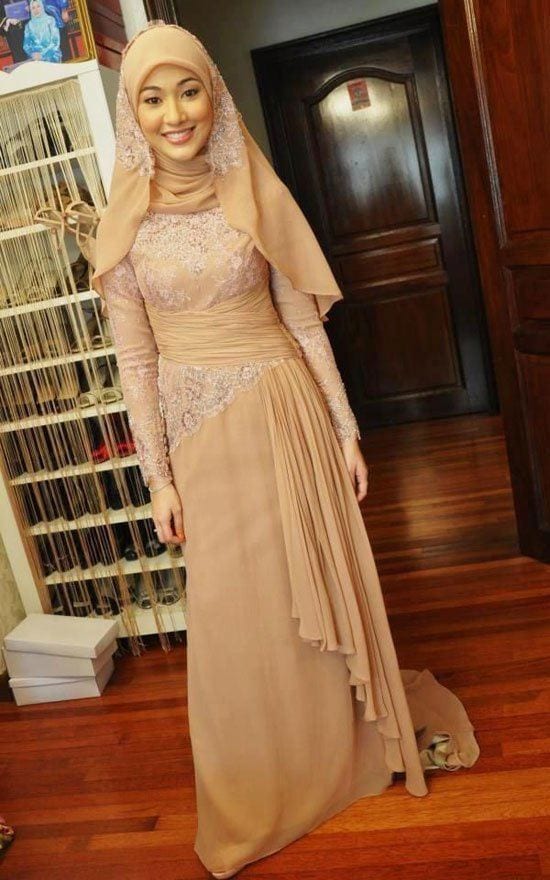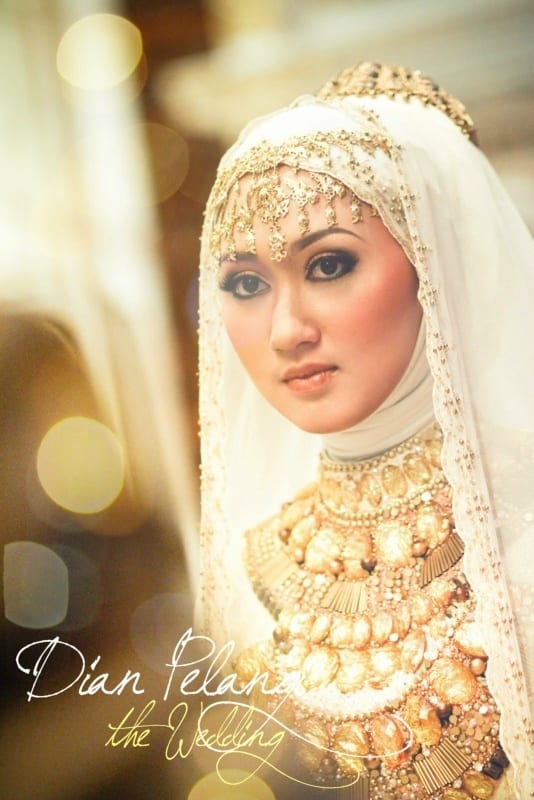 via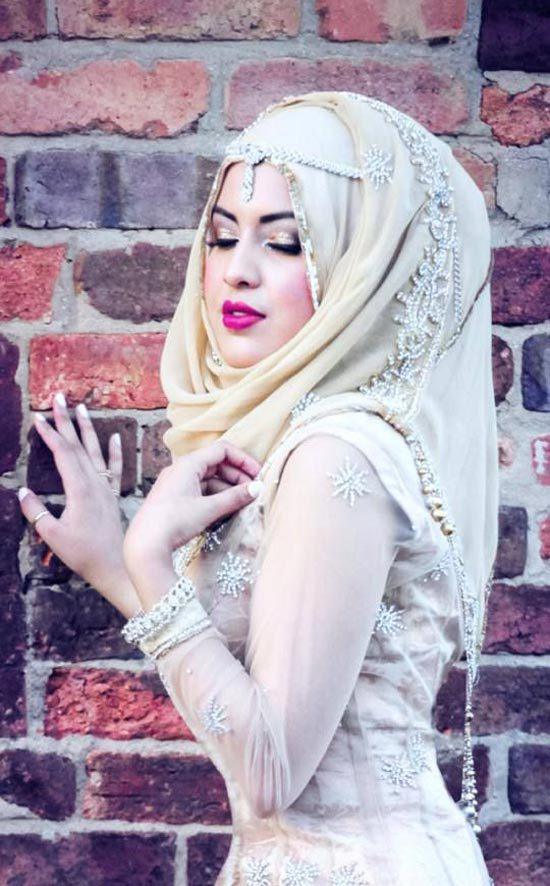 Gray and chocolate brown with a seperate head piece to give a modest look to the bride.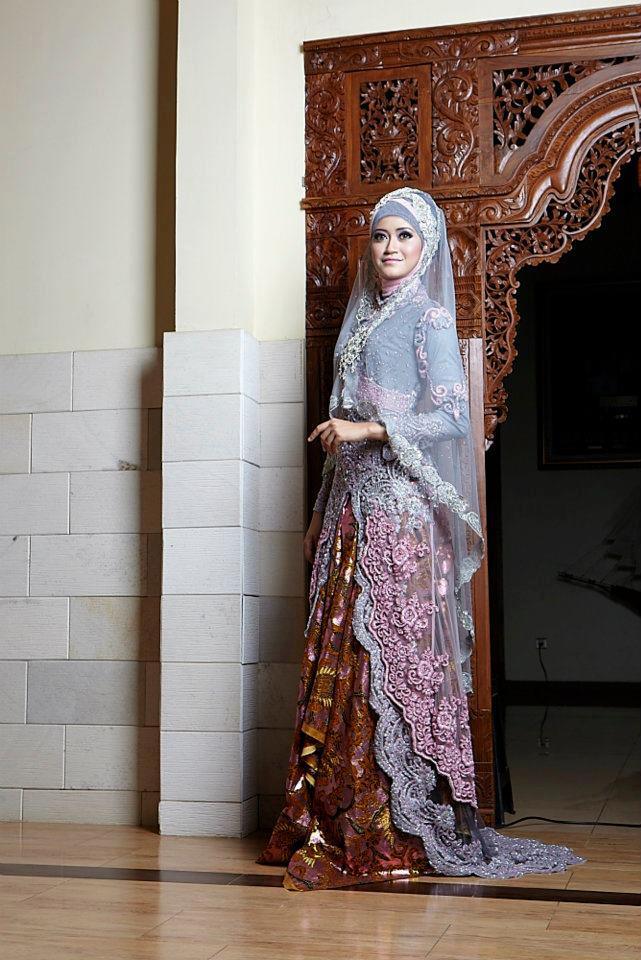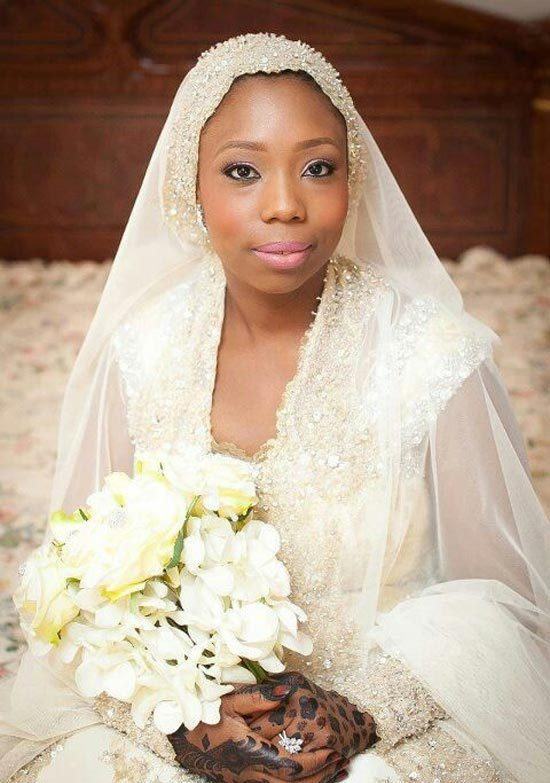 Buttoned up frilled white and baby yellow gown for your big day is an excellent choice for petite young ladies for their big day. Frills can be a bit tricky to carry so make sure that you love them before going for this gown.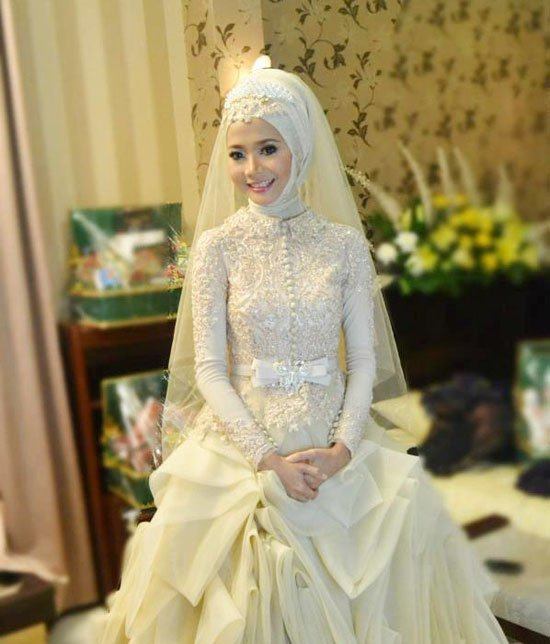 Источник: http://www.outfittrends.com/hijab-wedding-dresses-latest-hijab-wedding-styles/
Hijab Winter Style-14 Stylish Winter Hijab Outfit Combinations
Stylish short bob haircut pictures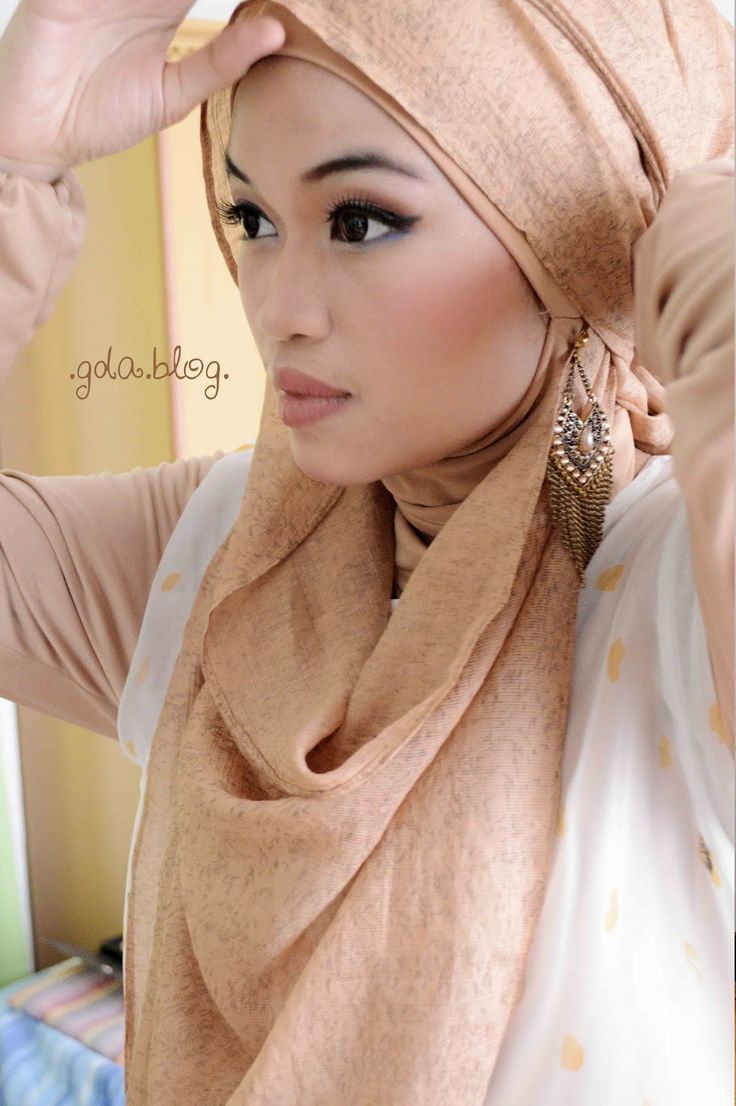 Planting, Growing, and Harvesting Garlic.